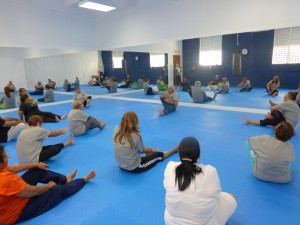 Physical, emotional and intellectual capabilities are the main purposes of the International Taekwon-do Organization (ITO) for those who wants to be a member to this Institution.
In the priorities order, health has not substitute. The years dedicated for the ITO's Founder, Senior Grand Master Ricardo Desimone to the study of the human body's biomechanical and its health benefits, are granted to the members of the Organization.
As the first Chairman of Juniors & Veterans Committee for the whole world, he could develop serious conclusions about the human body movements.
That conclusions allowed to improve the competition rules for Taekwon-do's practitioners in their 40's years of age and over.  Their participation in the sport competitions was forbidden until that moment or their disadvantage inclusion in the Adults category .
To incorporate the mentioned ages, was necessary the study of their psychophysical possibilities, which with the time and its practical use, allowed the development of a systematized method. Furthermore the sport possibilities, this method has demonstrated the benefits in the psychophysical health in people of both sex.
An Institution dedicated to the health with professionals in all specialties, was interested to include this method because was considered coincident with the targets of this Institution and the program developed and registered by its Director, María del Carmen Padilla Internist MD.
Centro Medico Salinas from Puerto Rico-USA, is the name of that Institution who included and use as a treatment mode in patients of all ages, the biomechanical method already mentioned.
Prevention and control of obesity and the assistance in recovering of patients with difficulties in their moving, are the targets of its inclusion.
The results has surprised to all professional who checked the improvement.
Prevention is, as it always was, a medical concern. At present and furthermore of this concern, prevention is the absolute factor in the modern medicine. Then we emphasize the use of the mentioned method as a preventing tool against obesity, the sedentary and its consequences in the human physic and in its psychic. The proposed method and after to be used in the members of CMS, has demonstrated to be so effective that upsurges the petition to be extended to the community.
The interrelation with professionals who send their patients to be treated in the training area is essential and in this sense we are acting.
ITO is essentially knowledge. The adequate and scientific use of knowledge allow to the members of this Organization enjoy and train an advanced Taekwon-do.
Health is priority in this Art's development. The teaching methods developed by ITO, permits to know a pedagogic way strongly related with the health of our members.