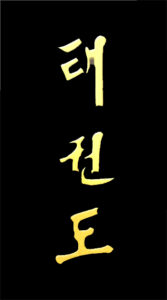 After having contributed for many years to the diffusion of the Art called Taekwon-Do through demonstrations at the beginning of this discipline and as an Instructor later, it is very difficult to digest the current situation that surrounds us in the global development of the activity. In the late 60's and early 70's it was a constant to persuade other martial disciplines that tried fiercely to prevent the development of Taekwon-Do and to be considered one more among the martial arts that by then were already established.
Fortunately that current of thinking changed thanks to the effort of the Instructors who as Western pioneers accompanied the Koreans envoy by Gen. Choi Hong Hi, Founder of Taekwon-Do and President of the only federative entity that by those times internationally governed their destinies. In those times the art was in its formative years all over the world and the number of countries supporting its growth was not so large. However and due of the political attacks that occurred in South Korea (then birthplace and seat of the international federation that governed it), this institution and its president and founder had to go into exile in Canada. The other part of Korea (North Korea) was not among the countries that made up this federative movement because it was, as it is at present, a closed political regime with an almost non-existent relationship with the rest of the world.
On 1981 and also for political reasons General Choi visited that country. In that year and after an agreement, he sends Instructors to begin the development of the discipline there and then be able to incorporate it into the international context of countries member. At that time, the federation already had Western Instructors in the 4th, 5th and 6th Dan who assumed the responsibility of organizing national institutions to cover the desertions of the Korean instructors. These Koreans originally sent by the General became part of a new world entity dependent on the South Korea's government.
Gen. Choi sent Instructors or new Masters whenever any country presented the need to straighten out misunderstandings among the nationals of the countries member. This happened until some of these envoys attempted to undermine the Founder's leadership. This fact determined that Gen. Choi decided to put an end to political and biomechanical discrepancies by traveling in person throughout the globe. With seminars for International Instructor given by him, he dealt with unifying the manipulated biomechanical criterion and ordered the political imbalance produced in different countries of the world.
In countless radio, written and television interviews and among the many anecdotes that were disseminated journalistically, always and as a litany he repeated: «Taekwon-Do is not a sport, it is a martial art. This art does not depend on any country or any regime, it belongs to the humanity. It has been created for humanity and without restrictions. No one can or should try to take ownership of it. They have already tried and only managed to make us bigger and stronger. Wanting to appropriate it responds only to two motivations: 1) political management (using art to influence internationally on the people where otherwise they could not do it) and 2) by particular economical ambitions. Both actions have already been attempted and I have personally opposed it, defusing the try and managing to maintain the freedom of Taekwon-Do over all attempts.»
His memoirs, his encyclopedia and filmed interviews, give an account of what has been aforementioned said.
I fear to be repetitive but I have been his translator in countless interviews and seminars for many years and I have translated his condensed encyclopedia into Spanish, therefore I can attest that all said here is true. I believe that if any particular country tries to take over Taekwon-Do it does so for the reasons rejected and made explicit above by the Founder. If were a person who was doing it, I wouldn't doubt that it is for economic reasons exclusively. Any other explanation they want to give to this usurpation would be a gross lie to be able to carry it out.
A fierce opposition to the subtraction of art is the only possibility of maintaining this discipline as it was conceived. In some other country there was an attempt to prohibit practitioners from using the design of the dobok that General Choi approved for the practice, however, what was achieved by those who tried that shameful action was that they were marginalized by all practitioners. It is necessary to remember that the only owner of Taekwon-Do is the practitioner.
SGM Ricardo Desimone
To be aware read again the previous notes